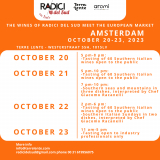 The fifth edition of Radici del Sud returns to the Netherlands at Terre Lente
Showcasing Southern Italian native varieties, the fifth edition of Radici del Sud on tour is back in Amsterdam from the 20th to the 23rd of October.

The event sees Terre Lente and Radici del Sud join forces again to shine a spotlight on Southern Italian wines and will take place in Terre Lente's headquarters in Amsterdam between the 20th and the 23rd of October 2023. The focus, as always, will be on connecting the wine producers from Southern Italy with wine buyers, journalists, wine experts, restauranteurs and wine lovers from all over the Netherlands. Some of the producers who took part in the 2023 edition of Radici del Sud will be present, click here for the updated list of wines and producers taking part in Amsterdam from the 20th-23rd October.
The event programme will give wine enthusiasts the opportunity to taste 70 different wines from Southern Italy from the 20th to the 22nd of October, doors open to the public at 5pm-8pm on Friday 20th October; at 5pm - 10pm on Saturday 21st October and from 2pm-6pm on Sunday 22nd October. In collaboration with Aromi Ristorazione it will be possible to taste southern Italian gastronomic specialities, prepared by Chef Giacomo Racanelli, who has created special menus for the occasion to showcase Southern Italian dishes and products. On Saturday 21st October (from 7pm-10pm) Chef Racanelli will create three dishes inspired by the Southern Italian Seas and Mountains and on Sunday 22nd October (2pm- 6pm) he will dedicate two dishes to Southern Italian Sundays. Monday 23rd October, from 11am- 5pm, will be dedicated to importers, journalists and industry professionals to meet the Southern Italian producers.

The renewing of this event, now in its fifth edition, confirms and consolidates the message and the connections that Radici del Sud aims to achieve, providing a stage for wines of Southern Italy to reach a broader audience.
If you are a wine lover and want to participate in the tastings on 20th October click here
If you are a wine lover and want to participate in the tastings on 21st October click here
If you are a wine lover and want to participate in the tastings and dinner on 21st October click here
If you are a wine lover and want to participate in the tastings on 22nd October click here
If you are an operator and you want to participate on October 23rd click here
More info: info@terrelente.com, radicidelsud@gmail.com
phone number: 00 31 619956075
Tutte le news