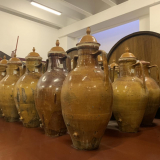 RADICI DEL SUD RESTARTS FROM NETHERLANDS ORANGE WINES AND MACERATED WINES, NEW TREND OR ANCIENT TRADITION?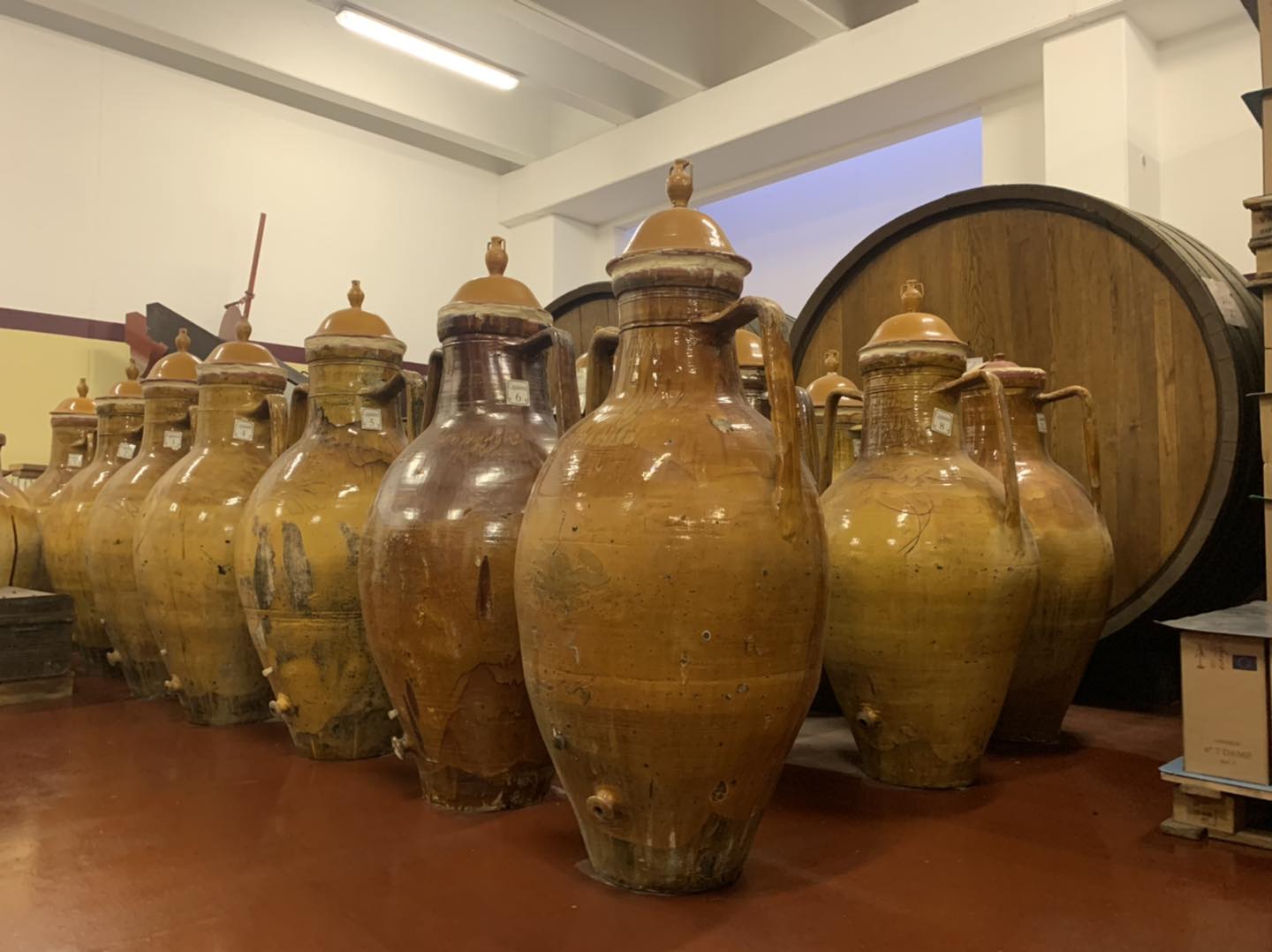 On April 21st at Terre Lente in Amsterdam the appointment to discover the orange wines and macerated wines of Southern Italy
The traveling review "Waiting for Radici del Sud" starts again on April 21st and will take us to the next edition of the Southern Italy Wine and Oil Exhibition which will open its doors to the public on June 12th in the castle of Sannicandro di Bari.
Macerated wines and orange wines will be the protagonists of the evening at the Terre Lente store in Amsterdam situeted in one of the most beautiful districts of the city, the Jordaan. During the evening will be possible to compare 6 wines from Southern Italy together with a great expert of macerated and orange wines, Simon Woolf, multi-awarded English author and wine writer, writes for Decanter magazine, Meininger's Wine Business International, World of Fine Wine, publisher of The Morning Claret, online wine magazine. Simon's first book "Amber Revolution - How the world learned to love orange wine" was the winner of the Roederer Wine book of the year award in 2019. With Simon Woolf we will address the theme "Orange wine and macerated wines, new trend or ancient tradition?" but we will make a very interesting journey in the various regions of Southern Italy and we will discover the effects and results that, in addition to the territory of origin of each vine, maceration and conservation in terracotta containers confer on wines from native vine varieties. We will taste wines such as Pecorino (Abruzzo) , Caprettone (Campania), Greco Bianco (Calabria), Catarratto (Sicily), Aglianico (Campania) and Primitivo (Puglia).
The masterclass will be presented together with Simon Woolf by the organizer of Radici del Sud Nicola Campanile and Luigi Pucciano distributor experienced in wines from Southern Italy.
To better appreciate the quality of the wines and their ductility in combining with the local gastronomy, a dinner will be served made with typical sea and land products chosen from the best artisanal food producers in Southern Italy. The event is aimed at wine enthusiasts, sommeliers, tasters and sector operators who, taking advantage of the unique opportunity, wish to get to know or rediscover the great wines of Southern Italy, eclectic and highly drinkable.
The tasting of the 6 wines plus the tasting of the 6 dishes (the orecchiette dish with meat sauce represents two courses served in a single dish as per the tradition of Southern Italy) can be accessed by booking at the link below: click here
We are grateful for the creation of the menu and for the contribution to the logistics activities: Giammichele Pagone, Plebiscito 7 restaurant in Casamassima (Ba), Giuseppe Petruzzella, Pizzeria Vecchio Gazebo in Molfetta, the Punto Blu fish shop in Bari and Luigi Zaccaria.
Info&booking: tel. +31 6 19956075/info@terrelente.com
Address: Terre Lente, Westerstraat 55, 1015 LV Amsterdam, Netherlands
www.terrelente.com www.radicidelsud.it
Poster, wines for tasting and menu: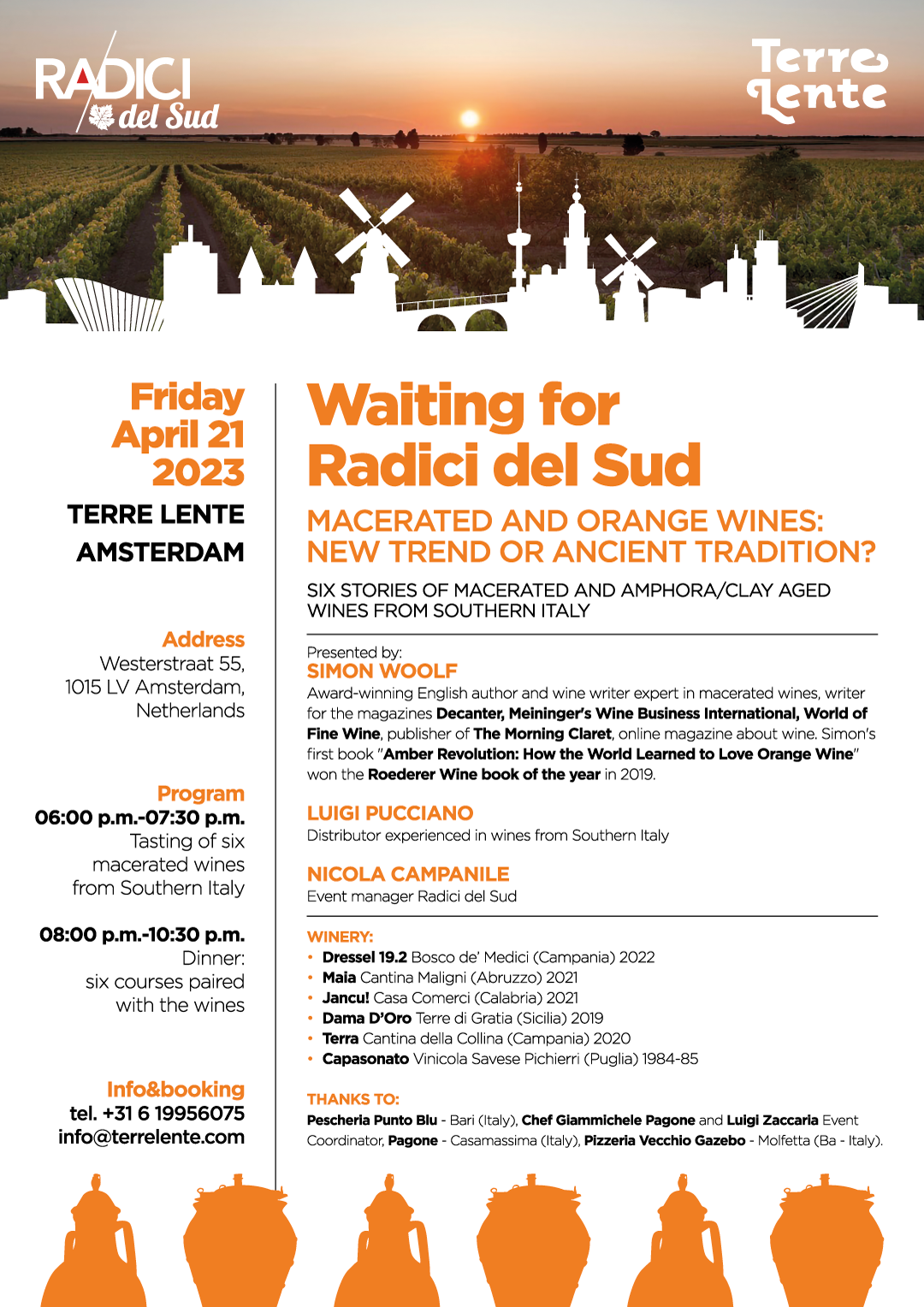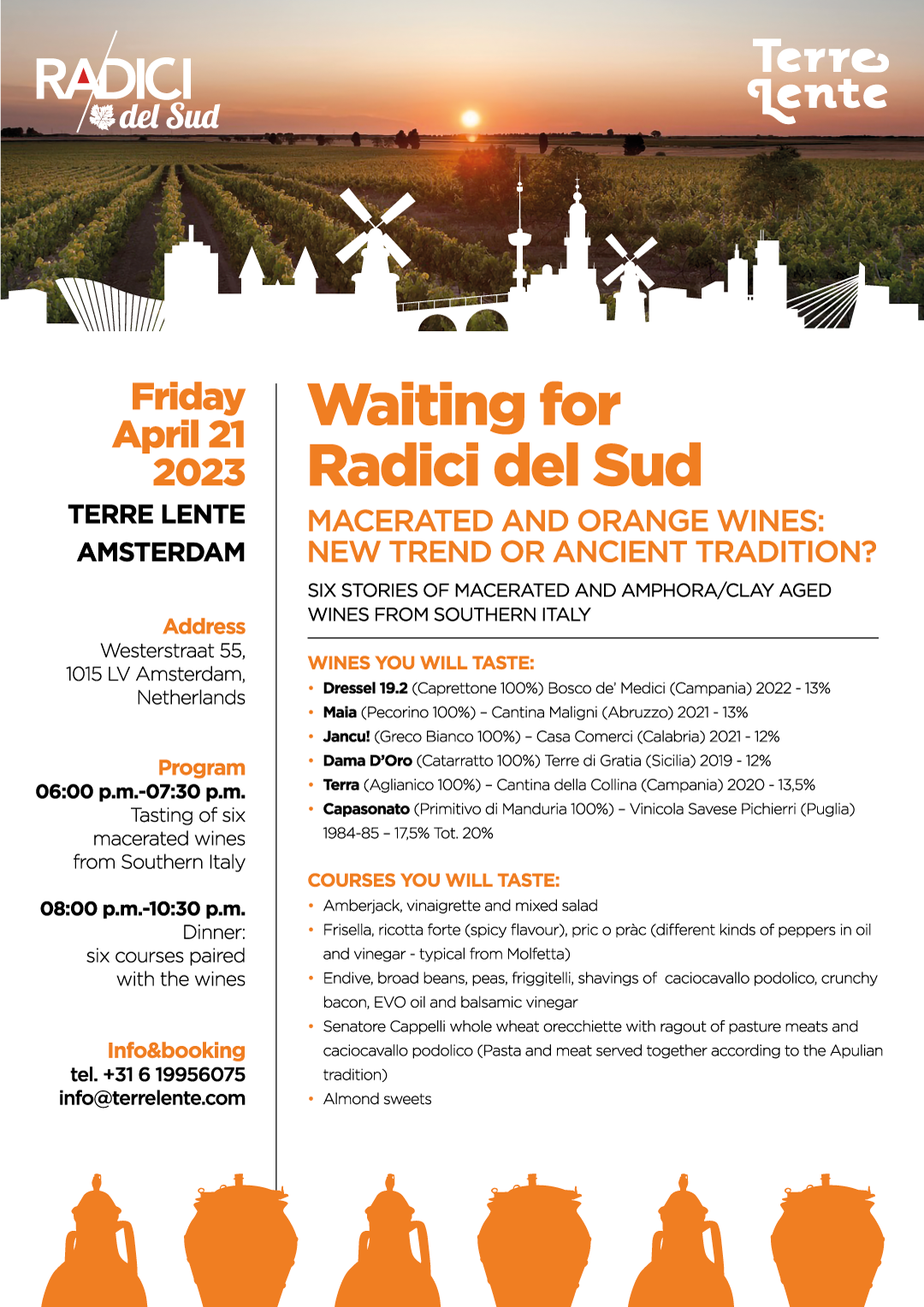 Tutte le news